Adobe Illustrator is the essential tool for graphic designers and digital artists to create vector graphics. Our Adobe Authorized Graphic Design Courses in Dubai – UAE, allow you to get hold of graphic design concepts such as balance, proximity, alignment, repetition, contrast and space. These graphic design principles you can efficiently use in typography, company logos, illustrations, posters, charts & graphs, presentation decks, cartoon characters for animation and motion graphics & HUD elements both for print production and digital content.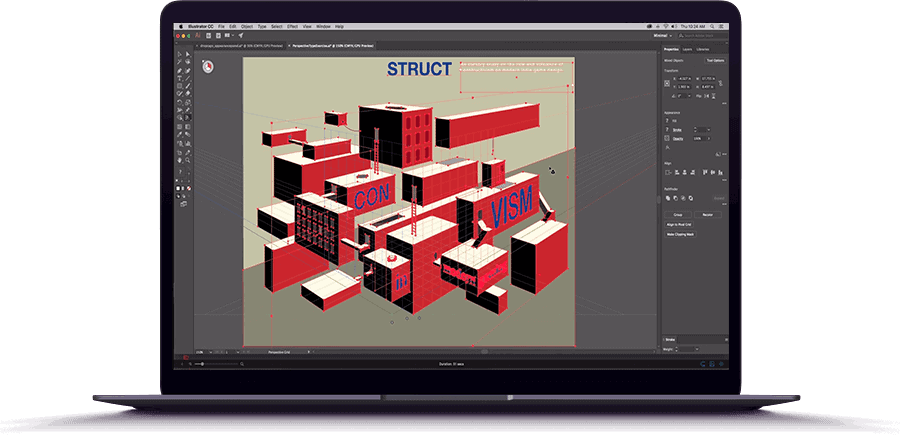 The Path to Vector Graphics with Illustrator!
Learn the ins and outs of Adobe Illustrator CC and Graphic Design with our  Graphic Design Courses in Dubai. You'll get the in-depth knowledge of Vector Graphics and manipulating them to create complex pieces of artwork. Be it logo or poster design, web-design mockups or your next presentation.
Let your imaginations go wild right from the beginning with the basics. And charge your way forward to the advanced concepts in a very orderly and systematic way. You'll be able to learn the tools and the concepts swiftly and feel confident about solving art & design problems.

Vector Graphics Foundations
Learn the main components of vector graphics in anchor points, paths, beziers and shapes

Improve your design with typography principles and concepts like kerning, tracking and leading

Illustrator's powerful layering and sub-layering system enables you to put together your designs

Set yourself apart with understanding of color modes, harmonies and color managed workflows

Illustrator's warping and distortions tools and effects offer non-destructive and procedural warps

Designing architectural layouts or isometric designs, the perspective tools are there for you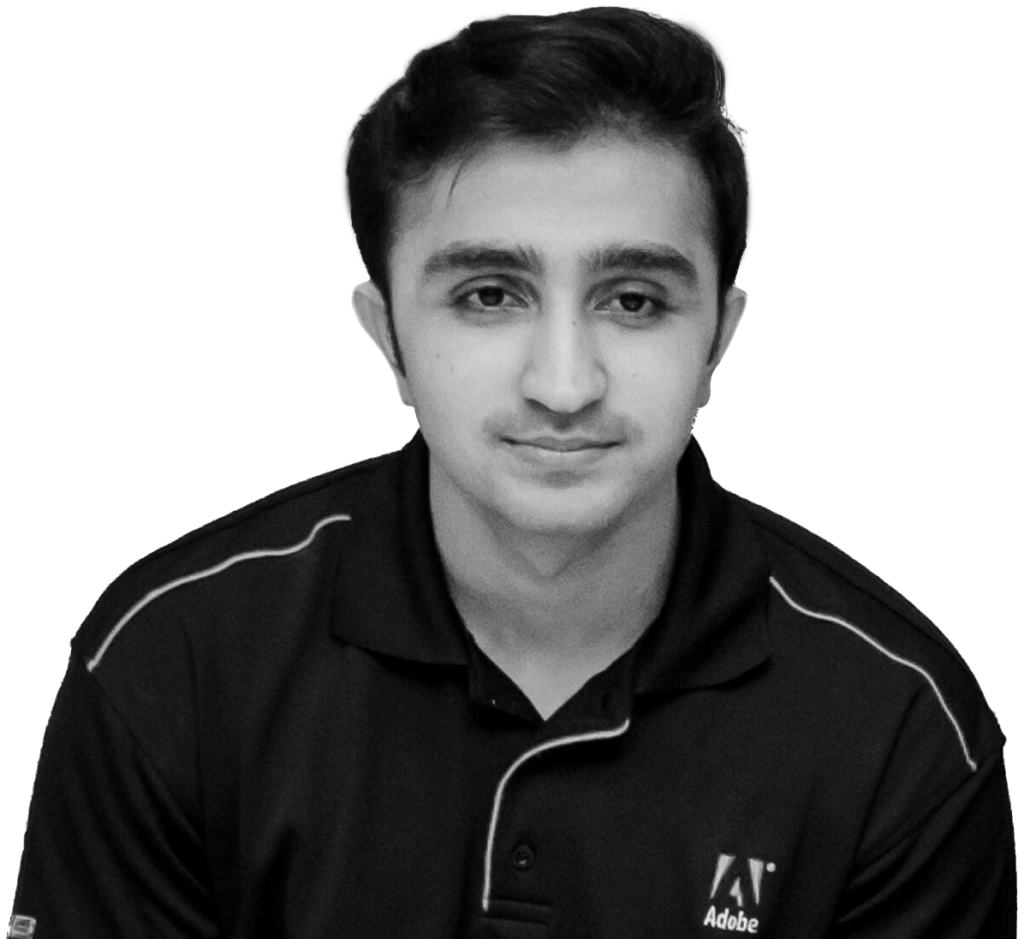 Salman Khan is an Adobe Certified Expert/Instructor and Adobe & The Foundry Official Training Partner. With areas of expertise expanding from graphics design to motion graphics, digital film production to post-production, 3D content creation to VFX compositing and over 8 years of in-field experience training staff from multinational companies, universities, TV channels and production houses makes him one of the most sought after trainers.


Our Students have this to say
"Embrace the opportunity to learn from this maestro and watch your skills soar to new heights. Thank you, Salman, for being an exceptional mentor 🙏"
"Salman is an excellent trainer whose expertise in Adobe is fantastically complemented by his knowledge on media editing and production."
"Exceeded my expectations! It was fun, informative, and engaging. I enjoyed every minute of it and can't wait to apply what I've learned."
"I have learned so much more than I expected. Salman is an incredible teacher, mentor, and friend. I am so grateful to have participated in this course."
"Genuine expert" is the phrase that comes to mind when I look to describe Salman Khan Ghauri, Founder & CEO of The S Bit."
"I gained a thorough and truly in-depth understanding of the software. However, not only did Salman teach me After Effects perfectly he offers far more."
"Extremely helpful, especially the explanation of using tools in multiple ways. Mr. Salman has very deep knowledge about the features of Illustrator."
"I don't want to hide my gratitude... thank you so much for that Salman. You are a true Instructor with all the necessary skills, knowledge and attitude."
"Salman is now my official go-to-guy. Not only is his technical expertise astonishing but is underpinned with genuine know-how."
"We are so grateful you were our teacher. O my God….Your kindness made us feel welcomed and comfortable. You gave me the strength I needed!"
"I feel more confident with my skills now. The trainer Salman Khan was very knowledgeable, answering my questions and giving me more than one solution."
I'd like to take this opportunity to thank you Salman but with high motivation same as the time we had your training. Keep The S Bit ticking!
"Salman was a great instructor and very knowledgeable... extremely patient and willing to provide extensive support... my no.1 choice."
Adobe Illustrator Courses
Duration:
2 Days (9am-3pm)

Course Description:
This course covers the Basics of Adobe Illustrator. This 2-day course covers the fundamentals of Adobe Illustrator which provides participants with all the necessary knowledge and skills to start using Adobe Illustrator CC.

What you will learn:
• Customizing the Interface
• Keyboard shortcuts
• Understanding Vector Graphics
• Touring the workspace
• Working with documents
• Creating for web and print
• Guides, rulers & grids
• Using Artboards
• Selections and Transformations
• Understanding CMYK & RGB
Duration:
3 Days (9am-3pm)

Course Description:
This course covers Basics & Intermediate Adobe Illustrator topics. You'll learn how to work with layers, sub layers, working with swatches, creating shapes and paths, gradients, text and much more.

What you will learn:
• BRONZE Plus
• Layers & Sub Layers
• Creating color swatches
• Compound paths & shapes
• Cutting with Knife & Scissors
• Making Gradients
• Working with vector Text
• Selecting fonts (TypeKit)
• Using Glyphs
• Working with Fills & Strokes
• Creating dashes & arrows

This course includes all the Bronze topics.

Duration:
5 Days (9am-3pm)

Course Description:
This 5-day course will cover the Basics, Intermediate & Advanced. You learning continues with Advanced topic such as, 3D effects, Warp & Distort, the new Perspective Drawing, the Appearance Panel...etc

What you will learn:
• BRONZE & SILVER plus
• Dynamic 3D effects
• Warp & Distort
• Liquify and Gradient Meshes
• Perspective drawing
• Working with Photoshop & Illustrator
• Using the Scatter brush
• Using the Art brush
• The Appearance panel
• Using clipping masks
• EXTRA! In-class project for your portfolio

This course includes all the Bronze & Silver topics.
Graphic designers or people getting into a design job or taking up design responsibilities where Adobe Illustrator use is required to create illustrations, logos, advertisements or other graphic documents. They may have little or no experience with Illustrator.
Basic computer skills are necessary to complete these Illustrator graphic design courses. These skills include; a basic understanding of a computer's operating system, launching an application, creating and saving files, and copying files from CDs and other media.
Upcoming Illustrator Classes
Hosted live online via Zoom
Price: AED 1,950
2 – Days
09:00 AM – 03:00 PM
Oct 02 – 03, 2023

Oct 30 – 31, 2023
Nov 27 – 28, 2023
Price: AED 2,850
3 – Days
09:00 AM – 03:00 PM
Oct 02 – 04, 2023

Oct 30 – Nov 01, 2023
Nov 27 – 29, 2023
Price: AED 4,550
5 – Days
09:00 AM – 03:00 PM
Oct 02 – 06, 2023

Oct 30 – Nov 03, 2023
Nov 27 – Dec 01, 2023