Adobe Premiere Pro is one of the World's best non-linear timeline-based video editing software programs. Its robust video editing, audio enhancement and color grading features along with its in-depth compatibility with After Effects, makes it the go to tool for professionals and hobbyists alike. With our Adobe Premiere Pro Video Editing courses in Dubai – UAE, you get to learn Premiere's advanced tools and video concepts such as 3 & 4 point editing, various types of cuts, green screen keying, multi-camera editing, lumetri color controls, tracking & stabilization and so much more.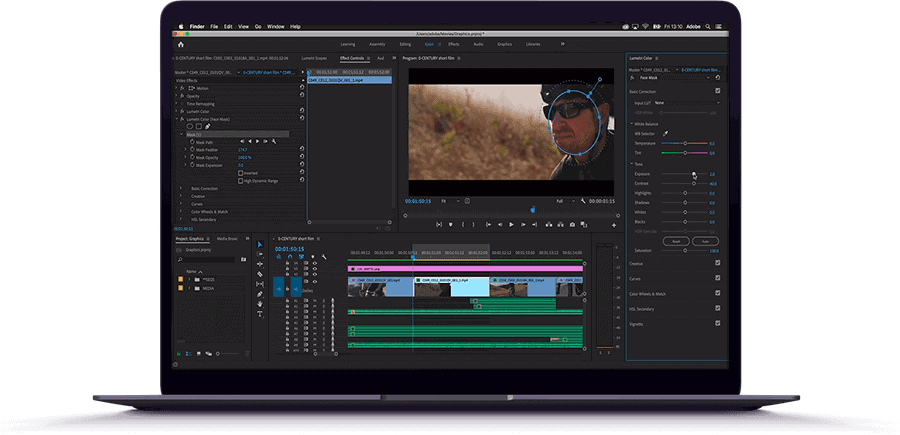 Video Editing Mastery Begins!
Our Premiere Pro video editing courses in Dubai, UAE cover optimized professional workflows. Which include editing amazing videos for web, broadcast and film. From color correction & grading, video editing to adding background music and foley sounds is broken into bite size pieces.
With our expert level Premiere Pro video editing courses, learn the art of seeing/pre-visualizing and editing raw video into meaningful video content. Take your videos to a whole new level with Adobe Dynamic Link round trips to and from Adobe After Effects and Audition to add VFX and master audio.

Importing and organising media, Performing insert, overwrite, and replace. Basic editing concepts

3 & 4 point editing. Performing intermediate editing & trimming and multicam editing.

Trimming and recording sound bites. Sound design (track mix and submix). Adding audio effects.

Color Correction and Grading
Cinematic color correction and grading using Lumetri controls and vector scopes.

Stabilization and Animation
Stabilization using Warp Stabilizer, fixing alignment, removing distortions, adding transform animation.

Green and Blue Screen Keying along with compositing multiple images together.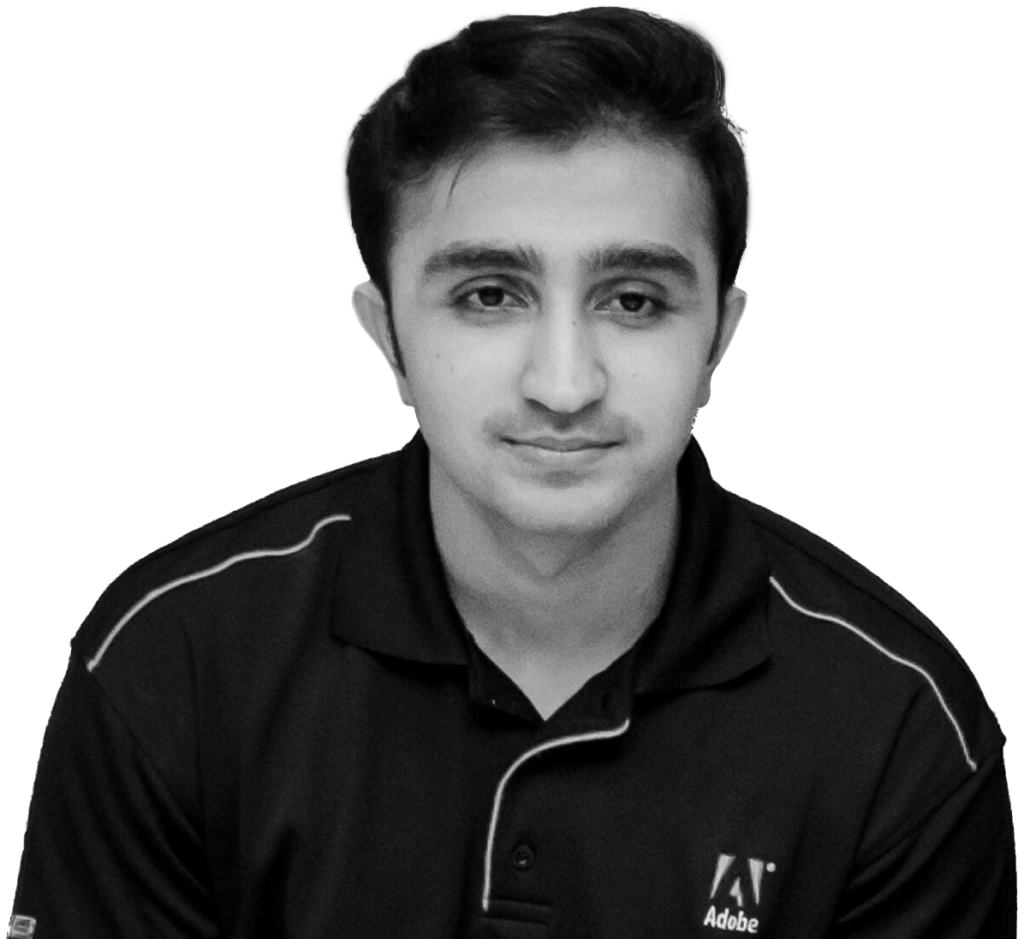 Salman Khan is an Adobe Certified Expert/Instructor and Adobe & The Foundry Official Training Partner. With areas of expertise expanding from graphics design to motion graphics, digital film production to post-production, 3D content creation to VFX compositing and over 8 years of in-field experience training staff from multinational companies, universities, TV channels and production houses makes him one of the most sought after trainers.


Our Students have this to say
"Embrace the opportunity to learn from this maestro and watch your skills soar to new heights. Thank you, Salman, for being an exceptional mentor 🙏"
"Salman is an excellent trainer whose expertise in Adobe is fantastically complemented by his knowledge on media editing and production."
"Exceeded my expectations! It was fun, informative, and engaging. I enjoyed every minute of it and can't wait to apply what I've learned."
"I have learned so much more than I expected. Salman is an incredible teacher, mentor, and friend. I am so grateful to have participated in this course."
"Genuine expert" is the phrase that comes to mind when I look to describe Salman Khan Ghauri, Founder & CEO of The S Bit."
"I gained a thorough and truly in-depth understanding of the software. However, not only did Salman teach me After Effects perfectly he offers far more."
"Extremely helpful, especially the explanation of using tools in multiple ways. Mr. Salman has very deep knowledge about the features of Illustrator."
"I don't want to hide my gratitude... thank you so much for that Salman. You are a true Instructor with all the necessary skills, knowledge and attitude."
"Salman is now my official go-to-guy. Not only is his technical expertise astonishing but is underpinned with genuine know-how."
"We are so grateful you were our teacher. O my God….Your kindness made us feel welcomed and comfortable. You gave me the strength I needed!"
"I feel more confident with my skills now. The trainer Salman Khan was very knowledgeable, answering my questions and giving me more than one solution."
I'd like to take this opportunity to thank you Salman but with high motivation same as the time we had your training. Keep The S Bit ticking!
"Salman was a great instructor and very knowledgeable... extremely patient and willing to provide extensive support... my no.1 choice."
Adobe Premiere Pro CC Training Courses
Duration:
2 Days (9am-3pm)

Course Description:
This course covers the Basics of Premiere Pro CC. This 2-day course covers the main 8 components of Premiere Pro. Be prepared to learn why Premiere Pro is one of the most popular video production and editing tool in the industry!

What you will learn:
• Introduction to Premiere Pro
• 8-step editing in Premiere Pro
• Customizing workspace
• Importing and organising media
• Inserts, Overrides & Replace Edits
• Trimming, Splitting, Moving & Deleting
• Understanding the timeline
• Working with Audio
• Applying effects
• Color corections techniques
• Creating titles
Duration:
3 Days (9am-3pm)

Course Description:
This course covers Basics & Intermediate Adobe Premiere Pro topics. Learn to creatively compose short-form advertisements using Adobe Premiere Pro. You will explore how to communicate and market an idea.

What you will learn:
• BRONZE Plus
•Multi-cam editing techniques
• Frame blending
• Cutting to Audio
• Creating Variable Speed effects
• Understanding Alpha channels
• Interpreting Alpha channels
• Replacing hero shots
• Building Action montages
• Adding placeholder transitions
• Recording voice-overs

This course includes all the Bronze topics.

Duration:
5 Days (9am-3pm)

Course Description:
This 5-day course will cover the Basics, Intermediate & Advanced Adobe Premiere Pro techniques. This course breaks down the process into a series of stages that correspond to the milestones of a real client project.

What you will learn:
• BRONZE & SILVER plus
• Removing noise (Aud & Vid)
• Adding filmic glow & Effects
• Relighting existing footage
• Stabailizing footage
• Retiming footage
• Animation
• Creating and applying Gradients
• Using Keylight
• Exporting via Adobe Media Encoder
• EXTRA! In-class project for your showreel

This course includes all the Bronze & Silver topics.
Professionals who need to know the basics right through to the advanced features of Adobe Premiere Pro to become more productive with its new features. Individuals who wish to learn how to edit videos to be used on a number of different platforms, including web.
Before taking these Premiere Pro courses, you should have a basic understanding of your computers operating system. For example, you should know how to launch an application, create and save files, and copy files from CD and other media.
Upcoming Premiere Pro Classes
Hosted live online via Zoom
Price: AED 2,550
2 – Days
09:00 AM – 03:00 PM
Oct 16 – 17, 2023

Nov 13 – 14, 2023
Dec 11 – 12, 2023
Price: AED 3,750
3 – Days
09:00 AM – 03:00 PM
Oct 16 – 18, 2023

Nov 13 – 15, 2023
Dec 11 – 13, 2023

Price: AED 5,550
5 – Days
09:00 AM – 03:00 PM
Oct 16 – 20, 2023

Nov 13 – 17, 2023

Dec 11 – 15, 2023