Adobe Lightroom is a photo library management, photo editing, sharing and publishing system for professional photographers. With our Adobe Authorized Lightroom Courses in Dubai UAE, you get to learn how to get started with Adobe Lightroom and attain the expert level knowledge. Learn to organize your photos with Lightroom's amazing Catalog system using Adobe Sensei based Library module, where you get to recognize people & places add facial tags, Geo tags and metadata (including copyright information) in your photos automatically. With Lightroom's Develop Module, you can retouch, color correct and color grade your photos using Camera Raw Integrated non-destructive workflow. Lightroom can be used on a Mac/PC, notebooks, tablets and iOS or Android smartphones.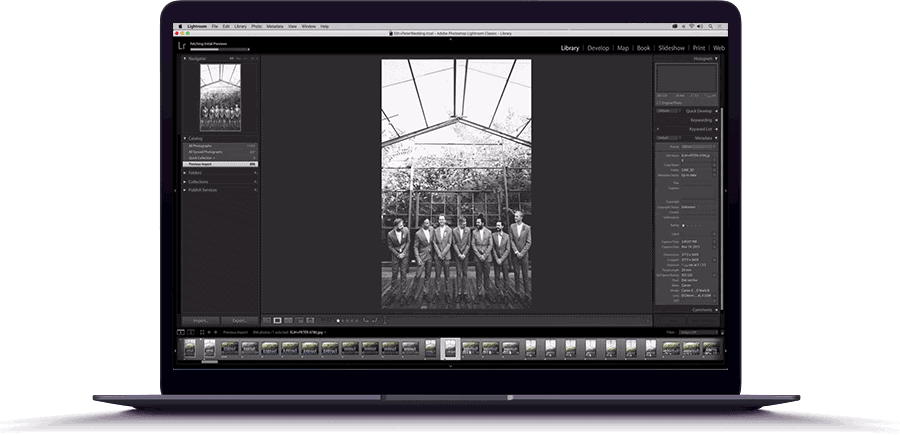 Learn Lightroom Like a Pro!
Learning Adobe Lightroom Classic CC will enable you to take your photography skills to a whole another level. With its robust cataloging system, your workflow will speed up considerably. From importing and sorting to comparing, rating and tagging images will just be a breeze.
With Lightroom's Camera Raw powered Develop module, the post-processing of images will be lightning fast yet non-destructive. Whether you're preparing your images for Instagram or getting your prints ready for your next exhibition, Lightroom will be your go to tool.

File Structuring and Cataloging
Learn all the methods for systematic catalog management and image organization

Cropping and Composition Rules
Improve your photos by understanding and applying cropping with composition rules

Histogram and Basic Adjustments
Map your tonal sliders to the histogram and give the adjustments much more meaning

Retouch away the spots and blemishes from your images using cloning and healing brushes

Perform the color grading on your images and save the looks as Lightroom presets

Get your prints ready. Be it a single page or a booklet, Lightroom's got you covered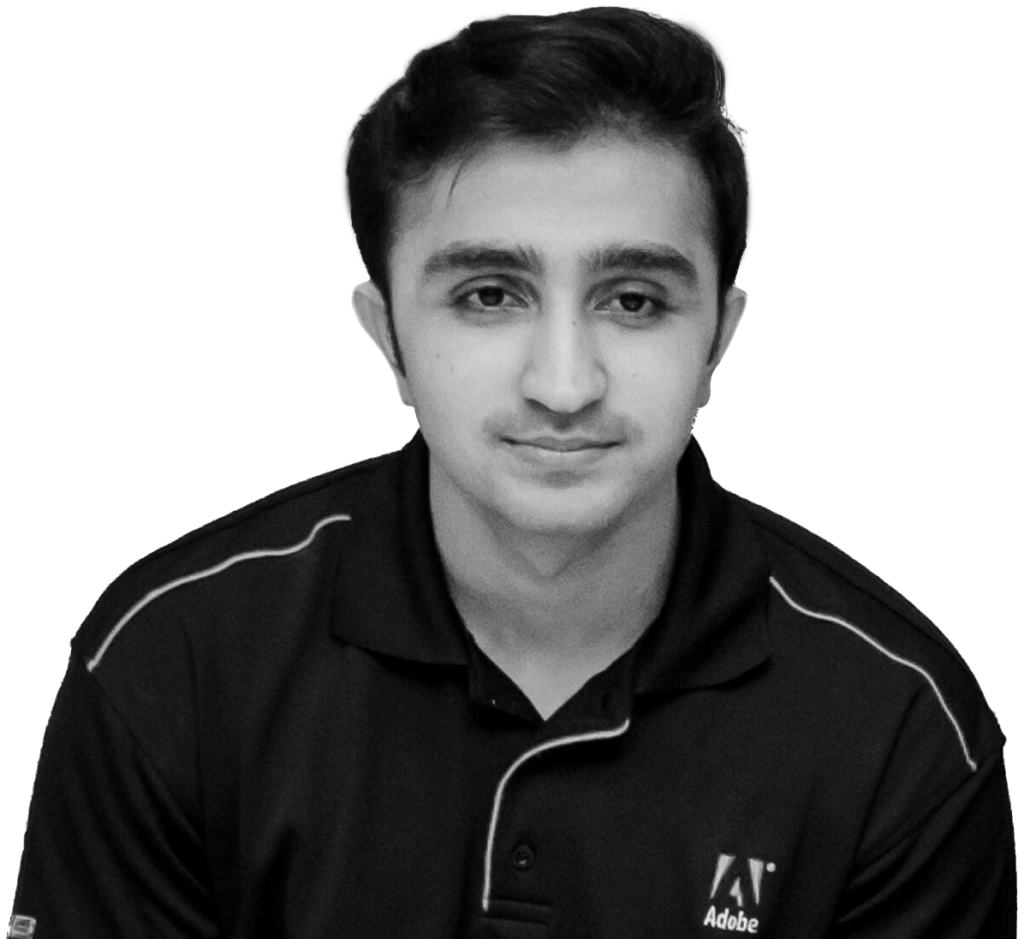 Salman Khan is an Adobe Certified Expert/Instructor and Adobe & The Foundry Official Training Partner. With areas of expertise expanding from graphics design to motion graphics, digital film production to post-production, 3D content creation to VFX compositing and over 8 years of in-field experience training staff from multinational companies, universities, TV channels and production houses makes him one of the most sought after trainers.


Our Students have this to say
"Embrace the opportunity to learn from this maestro and watch your skills soar to new heights. Thank you, Salman, for being an exceptional mentor 🙏"
"Salman is an excellent trainer whose expertise in Adobe is fantastically complemented by his knowledge on media editing and production."
"Exceeded my expectations! It was fun, informative, and engaging. I enjoyed every minute of it and can't wait to apply what I've learned."
"I have learned so much more than I expected. Salman is an incredible teacher, mentor, and friend. I am so grateful to have participated in this course."
"Genuine expert" is the phrase that comes to mind when I look to describe Salman Khan Ghauri, Founder & CEO of The S Bit."
"I gained a thorough and truly in-depth understanding of the software. However, not only did Salman teach me After Effects perfectly he offers far more."
"Extremely helpful, especially the explanation of using tools in multiple ways. Mr. Salman has very deep knowledge about the features of Illustrator."
"I don't want to hide my gratitude... thank you so much for that Salman. You are a true Instructor with all the necessary skills, knowledge and attitude."
"Salman is now my official go-to-guy. Not only is his technical expertise astonishing but is underpinned with genuine know-how."
"We are so grateful you were our teacher. O my God….Your kindness made us feel welcomed and comfortable. You gave me the strength I needed!"
"I feel more confident with my skills now. The trainer Salman Khan was very knowledgeable, answering my questions and giving me more than one solution."
I'd like to take this opportunity to thank you Salman but with high motivation same as the time we had your training. Keep The S Bit ticking!
"Salman was a great instructor and very knowledgeable... extremely patient and willing to provide extensive support... my no.1 choice."
Adobe Lightroom CC Training Courses
Duration:
2 Days (9am-3pm)

Course Description:
This course covers the Basics of Adobe Lightroom CC. The course starts with the Library module: the hub for importing, viewing, ranking and rating your photographs. Then we'll move to the Develop module and show how to make one-click enhancements, correct white balance and perform basic tonal and color adjustments.

What you will learn:
• Why use Lightroom?
• Lightroom interface
• Importing photos
• Viewing and comparing images
• Rating and organising photos
• Adding keywords and face tags
• Working in Develop Module
• Basic WB and tonal adjustments
• Power of Cropping & Composition
• Getting Familiar with the Histogram
• Mapping Tonal Sliders to Histogram
• Getting to Know the Presence Controls
• Understandig the file formats
• Exporting images
Duration:
3 Days (9am-3pm)

Course Description:
This course covers Basics & Intermediate Adobe Lightroom CC topics. This course covers non-destructive secondary editing techniques using tonal curves and Hue/Saturation/Luminosity. Find out how to perform noise reduction, shadow and highlight detail recovery, sharpening selective areas in images, merging photos to create HDR and Panoramas.

What you will learn:
• BRONZE Plus
• Creating collections
• Adding/removing images
• Applying secondary adjustments
• Introducing Tonal Curves
• Mapping Curves to Sliders
• Editing the Point Curves
• Working with Channels
• Understanding Chromacity
• Working with HSL Controls
• Sharpening
• Reducing noise
• Adding vignettes
• Adding grain effects

This course includes all the Bronze topics.

Duration:
5 Days (9am-3pm)

Course Description:
This 5-day course will cover the Basics, Intermediate & Advanced Adobe Lightroom CC techniques. Get hold of post-crop vignetting, split toning, targeted adjustments. Create cinematic looks, HDR's and panoramas in Photoshop and share your work as books, slideshows and print layouts and web galleries.

What you will learn:
• BRONZE & SILVER plus
• Correcting lense distortions
• Dealing with chromatic aberrations
• Fixing Images Using Retouching Tools
• Targeted adjustments
• Image stacking
• Merging photos (HDR & Panorama)
• Understanding split toning
• Creating cinematic looks
• Creating snapshots and virtual copies
• Creating a book project
• Sharing your web gallery
• Building a slideshow
• Creating quality prints
• Merging images in photoshop

This course includes all the Bronze & Silver topics.
Graphic professionals who need an essential understanding of photo editing and the new features in Lightroom Classic such as state of the art library and develop modules, creating contact sheets and getting print outs ready. Experienced users will also benefit from the many tips and tricks.
Before taking these Lightroom courses, you should have a basic understanding of your computers operating system. For example, you should know how to launch an application, create and save files, and copy files from CD and other media.
Upcoming Lightroom Classes
Hosted live online via Zoom
Price: AED 1,950
2 – Days
09:00 AM – 03:00 PM
Oct 02 – 03, 2023

Oct 30 – 31, 2023
Nov 27 – 28, 2023
Price: AED 2,850
3 – Days
09:00 AM – 03:00 PM
Oct 02 – 04, 2023

Oct 30 – Nov 01, 2023
Nov 27 – 29, 2023
Price: AED 4,550
5 – Days
09:00 AM – 03:00 PM
Oct 02 – 06, 2023

Oct 30 – Nov 03, 2023
Nov 27 – Dec 01, 2023